This blog is a guest piece by Lucy Kebbell. Lucy is the Founder of The Vendeur and now The WIP, a unique digital space for sustainable brands to enjoy community and learning resources. The WIP is currently raising on Kickstarter, please support and share their mission.


By now, many of us are familiar with the issue of plastic waste. We have only recycled 10% of all the plastic ever created. The rest of it is sitting in landfill or floating in the sea. And while we are doing our best to avoid single use plastic, and switch to renewable products where we can, our clothing is still a big source of the issue. Synthetic fabrics like polyester, nylon, acrylic and lycra are all, like plastic, made from crude oil. Whilst there are benefits to using these fabrics, recent research has taught us that when we wash these fabrics, tiny microfibers are shed into the water, then subsequently washed out to sea.
Why is there plastic in our clothing?

Plastic plays a very practical role in making our clothing comfortable, stretchier, and more affordable. Most denim jeans now contain elastane to help them fit better, those skinny jeans would be near impossible to wriggle into without it. Polyester has been added to cotton shirts to make them easier to iron. Other elastics like spandex are mixed into our activewear fabrics to help them stretch, providing comfort when you move. Plastic threads are often used to stitch together denim fabrics as it's a much stronger alternative to regular cotton thread. The addition of plastic to our clothes has undoubtedly made our lives easier, and more comfortable.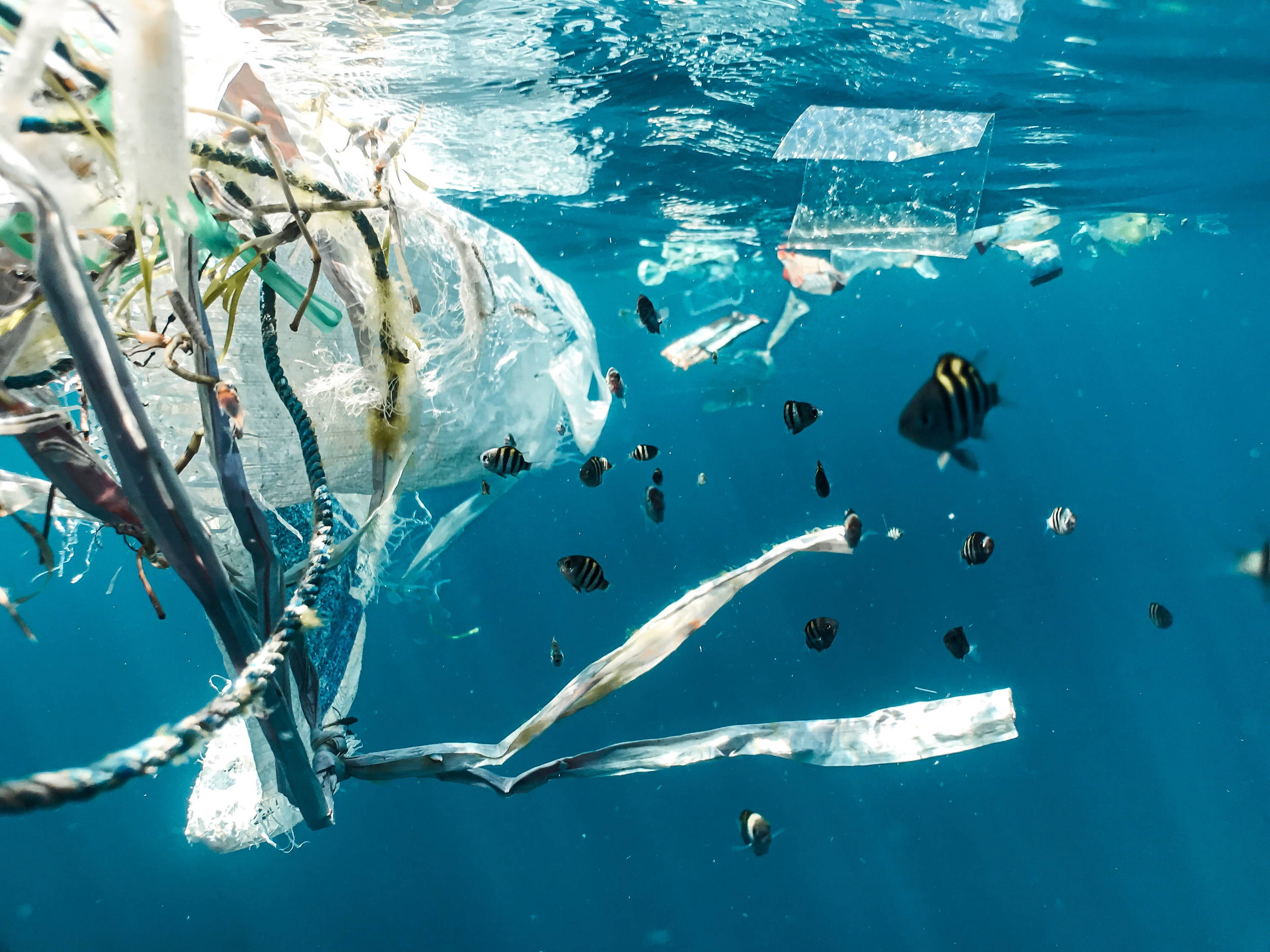 Why is plastic in our clothing bad?

With 60% of fast fashion clothing currently made using plastics, it's not surprising that microplastics have been discovered in oceans all over the world. Fashion accounts for a third of microplastic pollution. More worryingly, microplastics have also been discovered in the fish we eat and in stool samples. We are unwittingly eating and drinking the microfibers that shed from our clothes when we wash them. Of course, plastic isn't something we should be ingesting and there is evidence that it can cause long term damage to our health and the health of marine life.
Plastic mixed into our clothing also makes it harder to recycle fabrics. When fibres are mixed, recycling is tricky. For example, denim made with elastane is harder to recycle than pure cotton denim, like these Armed Angels jeans. There isn't much infrastructure in the world currently to do the job successfully. Items that cannot be recycled usually end up in landfill or shipped to second hand markets in the Global South.
What are regenerated plastic fabrics?

As we innovate towards sustainability, regenerated nylon fibres such as ECONYL ® yarn and other recycled PET fabrics have become popular. Sancho's selection of recycled materials has some great options. ECONYL ® yarn for example is created using abandoned ghost fishing nets that cause environmental issues when left behind by fishing boats. ECONYL ® is not only an amazing fabric which makes high performance swimwear, it's also infinitely recyclable, meaning it can be kept in a loop without going to landfill or back to oceans. For every 10,000 tons of ECONYL ® raw material made, 70,000 barrels of crude oil is saved. It also reduces the global warming impact of nylon by up to 90% compared with the material from oil.
What can you do to avoid micro plastic shedding?
However, washing these regenerated fabrics also causes microplastic shedding. So whilst regenerated fabrics are much better for the environment than virgin synthetics, it's important to wash your clothes carefully to avoid microplastics getting into the water. Of course washing your clothes less is a good place to start. Airing your clothes removes odours in place of washing. However as regenerated fabrics are most often used to create activewear and sportswear, washing our clothes is often unavoidable. In which case, there are several solutions to help reduce micro fibre shedding in your washing machine.
A Guppy Friend Bag or a Coraball are both great places to start. Throw the Coraball in with your clothes, or pop synthetic fabrics inside the Guppy Friend Bag before adding it to your machine. Both work by catching microplastics and capturing them, avoiding them ending up in the waste water that will then find its way into our seas. Simply remove the debris caught in the ball or bag and pop it in the bin. Whilst it isn't a perfect solution, it does a good job at keeping plastic out of the ocean.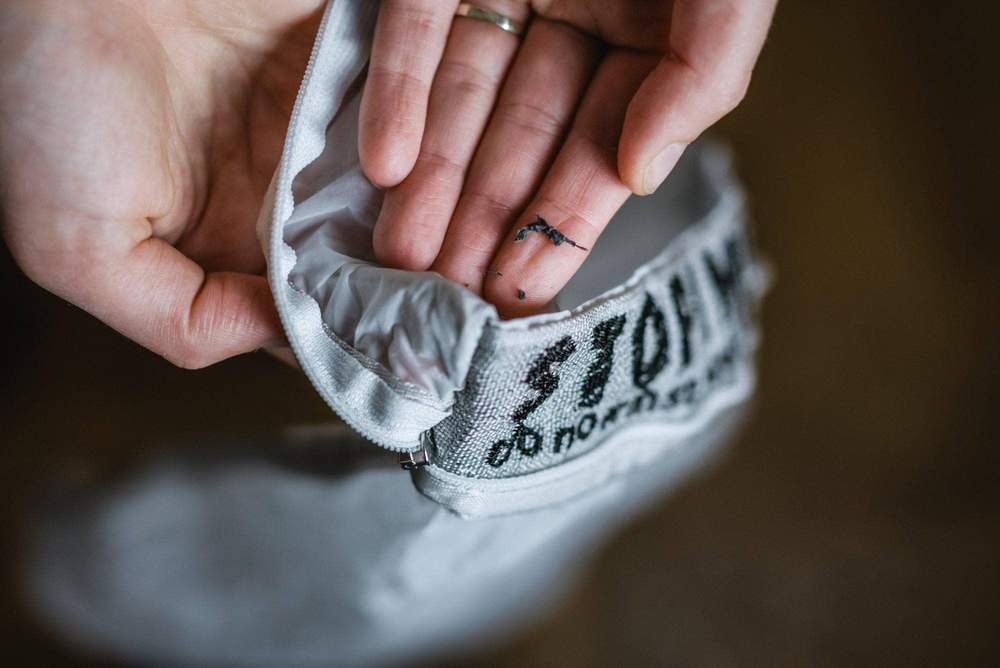 If you prefer a more heavy duty approach, then filters are now available to add to your washing machine. Girlfriend Collective, the amazing activewear brand which specialises in using regenerated fabrics, now offer their own filter. Simply attach the water filter to your washing machine and clear it out every few washes. Filtrol is another company that offers a do-it-yourself filter option. It's important to check that your machine is compatible and be aware that additional materials are needed to successfully fit the devices to your washing machine.
Whilst it's not always possible, choosing natural fabrics is by far the easiest way to deal with microplastic shedding. Fabrics such as organic cotton, linen and bamboo are naturally moisture wicking and temperature regulating, making them ideal to work out in. Wool and silk are also much softer than polyester imitations, and won't cause your body to overheat.