Sancho's is the home of sustainable fashion and ethical lifestyle products. Our Black woman owned business is based in Exeter, UK where we believe in doing better, providing sustainable and affordable clothing options. Through activism and spreading awareness, we are working towards a kinder world. Read more About Us here.
This summer we have a sale on, with up to 40% off our sustainable fashion pieces including swimwear, active wear, denim and event wear! With so many beautiful pieces to choose from, you'll be spoilt for choice! Here, I've chosen 5 of my favourite pieces from the sale with ideas on how to style them, to get the most out of your clothes and love them for longer!
The Clara linen jumpsuit in black
This beautiful jumpsuit is not only one of my favourites in the summer sale, but it's got one of the biggest discounts, from £145, down to £87! Made from 100% natural linen, which is perfect for summer! But this piece is a staple all year round because it is so versatile, you can throw over your favourite cardigan with it when the weather is grey, and pair it with your favourite trainers! In the winter months you can even layer it with knitwear underneath! Why not pair it with our Cap Tee in vintage lilac, for an everyday summer look!
The Yasmeen bodysuit is a staple piece you can dress up or down as a versatile base layer you'll never want to take off! Made from organic cotton, this bodysuit pairs perfectly with your statement trousers, skirt or shorts without stealing the limelight! Why not pair it with our Polly Shorts that are also in our sale!
The Kobenhaavn Dress in Black
This smock dress is a fun, practical dress for your everyday wardrobe! But this dress can easily by dressed up with the right accessories and worn in the winter months with some clever layering such as a roll neck long sleeve top layered underneath! What a dress! Made from an organic cotton that is GOTS certified, making it a truly special piece you'll only love more as the years go on. Why not pair it with our Rancho Trainers for a stylish late summer look!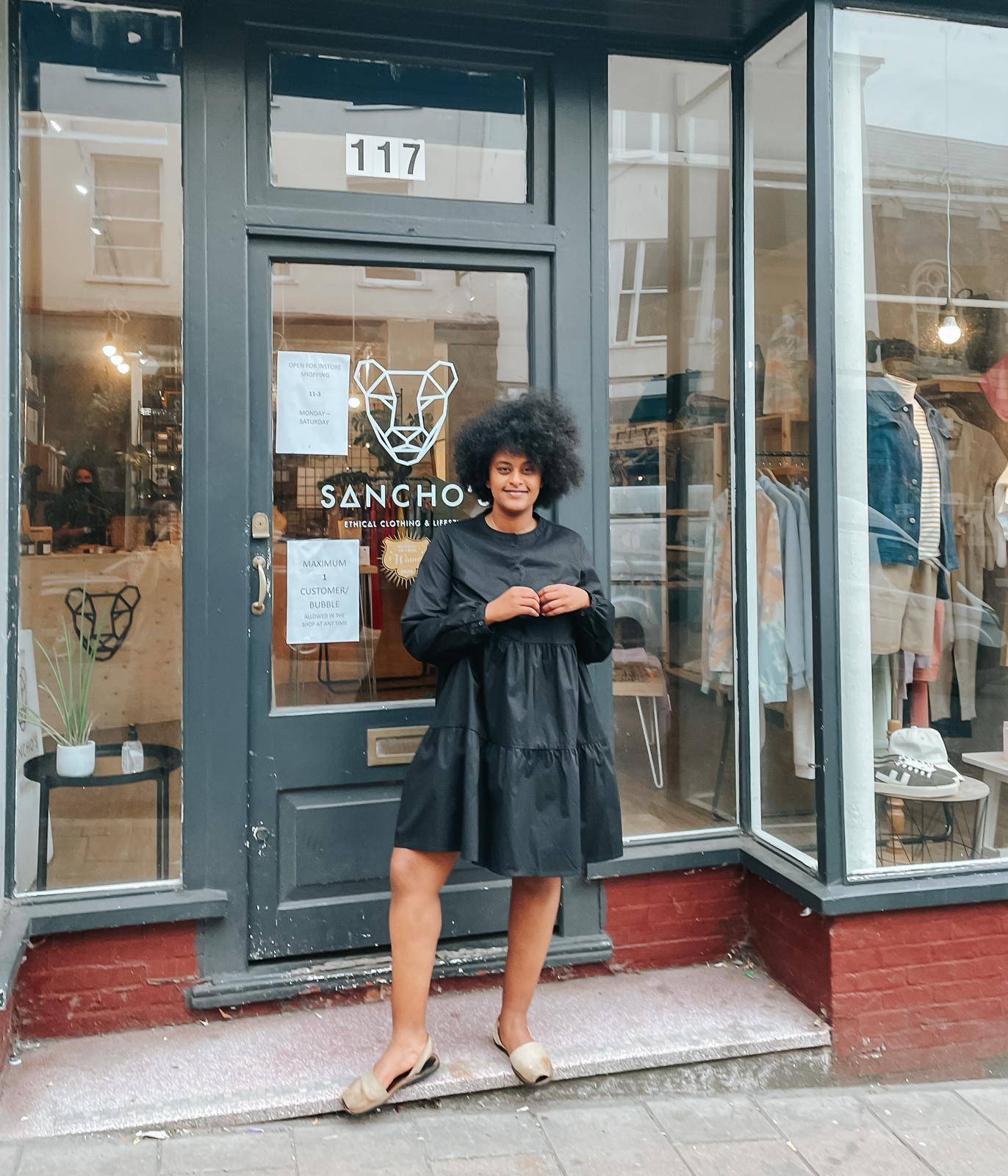 This luxurious cami top pairs perfectly with the matching skirt for you next special occasion, but you can wear it on it's own too! Pair it with your favourite pair of organic cotton jeans and an oversized cardigan for your new favourite look! Made from a natural viscose fabric which is not only super sustainable but feels soft and silky too!
The Straight Sweater in Serene Blue
You lot loved our lounge wear collection earlier this year, but now we're going out and about more, it still looks and feels great! Made ethically from organic cotton, our lounge wear is super soft and washes well, bringing you comfort season after season. Here, Kalkidan wears the sweater with the Amita trousers in cream which looks fab! Shop the look now and get your favourite sustainable pieces in the summer sale.
Shop the whole summer sale now with up to 40% off here!
Our email subscribers receive early access to new products and exclusive discounts. We only send out two emails a week. Plus, you can opt out easily at any time. To keep up to date on everything Sancho's and sustainable fashion sign up here.
Written by Olivia Riley