Sancho's is the home of sustainable fashion and ethical lifestyle products. Our Black woman owned business is based in Exeter, UK where we believe in doing better, providing sustainable and affordable clothing options. Through activism and spreading awareness, we are working towards a kinder world. Shop our transparent pricing collection here, our Organic Cotton Bestsellers here and read more about us here
Living a zero-waste life starts with making small decisions, as even small gestures can have a significant environmental impact. For example, replacing single-use goods with products made from sustainable or recycled materials helps to protect the planet. Here's a list of reusable products we love, which will cut down your plastic pollution and help you set off on your sustainability journey.
1. Re-usable nail polish remover wipes
We use cotton daily, but when it's not produced organically and through a fair trade scheme its production involves pollution, exploitation, and slavery. For instance, 20,000 litres of water are needed to produce 1 kilogram of standard cotton, which is enough only to make a T-shirt and a pair of jeans. Mindful of the American cotton fields and slave trade, the cotton industry certainly has a dubious past and even today there are allegations of child labour at various stages of the production process. Have you ever thought about replacing the use of cotton wool with bamboo Reusable Nail Polish Remover Wipes? Tabitha Eve's wipes are really simple to use and a must in your zero waste home. You put the nail polish remover on the wipe then, when you have finished, rinse it under cold water and leave it to dry until ready for reuse.
2. Crochet cleansing pads
Similarly, there are also reusable cleansing pads to remove make-up. And yes, removing make-up at night is not optional. But with these Crochet Reusable Cleansing Pads by HOOKAWAY4CROCHET,  bedtime beauty rituals have never been so easy and environmentally friendly. These unique hand-crocheted premium cotton pads are made in the UK by the yarn artist Zoe Goddard. The pads come in different colours, but they can also be customised upon request. The pads have a gentle exfoliating action and can be easily cleaned and reused multiple times, making the perfect gift for the beginning of your conscious life. Being made of natural fibres, you can pop the pads in the compost at the end of their lifecycle. The holes in the design allow you to create more bubbles getting the most out of your soap.
Buying a reusable coffee cup is another step every Zero Waste beginner should take. Since I moved to Exeter, not only have I turned into a conscious consumer, but also a heavy tea drinker. Nothing is better than having your drink refilled in your portable cup, knowing that you are saving billions of disposable cups ending up in landfills every year. In addition, some coffee shops even offer you discounts if you use a reusable cup. Ashortwalk, the award-winning design company in Cornwall, has developed Circular & Co, an insulated reusable cup with a leak-proof lid. It is designed to keep drinks hot or cold for a longer time and be easy to carry around. The cups are made from single-use coffee cups, contributing to the circular economy too. They come in two sizes and in different colour combos.
Did you know that more than 8 million tons of plastic go into the ocean every year? You can support a sustainable lifestyle, for instance, by replacing cling film with beeswax food wraps and use them for vegetables, sandwiches and leftovers. Plastic suffocates food, while Bees Wax Wraps are handmade with eco-conscious materials such as fairtrade organic GOTS certified cotton, locally sourced beeswax, pine resin and organic jojoba oil. The company also offers a wide range of vegan wraps. Beeswax food wraps are naturally breathable making food last longer and they come in various patterns adding colours and fun to your kitchen. You can either wrap the food directly or put the food on a plate or bowl and cover it with the wrap. The wraps can be washed in cold water with soap and last one year more or less. Since they are biodegradable, they not only reduce plastic pollution but can also be composted at the end of their life, making them a true zero waste product.
5. Guppyfriend laundry bag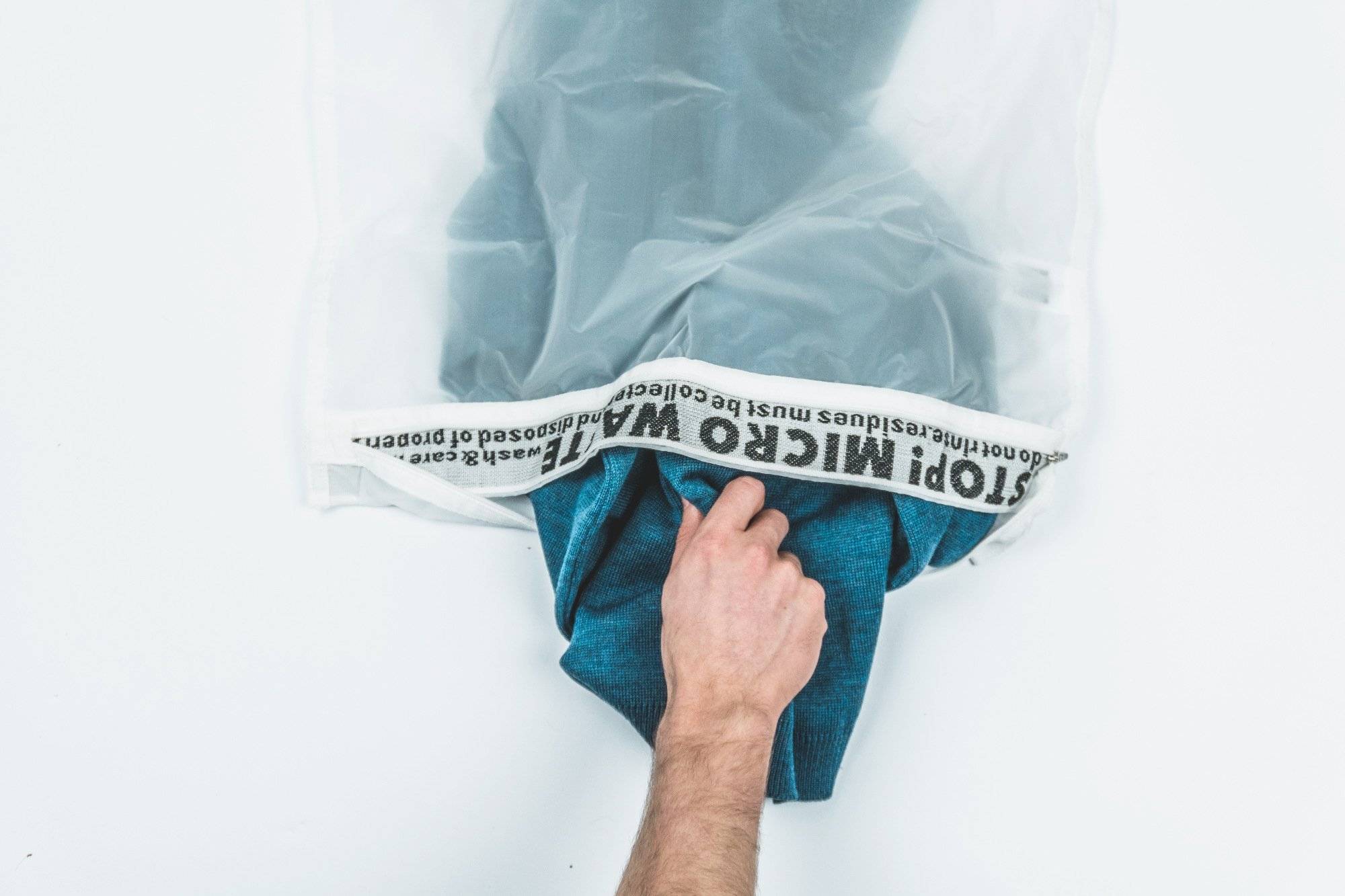 We have recently written about the shedding of microplastics when washing synthetic clothes. These plastic particles end up in the rivers and oceans and are consumed by wildlife, having a harmful effect on them as well as humans. Using a wash bag to put your nylon and polyester fabrics in when doing the laundry - for example this Guppyfriend Laundry Bag from Riley Studio - is one of the best actions you can take to help the environment. After a couple of washes, you can collect the microfibers from the bag and throw them in the bin.
Find out more about how to do an eco-friendly laundry here.
The most effective way to reduce your own carbon footprint is living by example. Once you start sharing your journey towards conscious living with friends and family, you will understand your actions can influence others, making them question their own plastic pollution. So be sure to let people know about your sustainability journey and what products can be replaced. Sharing articles like this and information should help people become a conscious consumer. The more people will join the zero-waste movement, the more we will be able to make significant environmental changes.
View our own collection of essential zero waste products here
Written by Alice Vinardi