Sancho's is the home of sustainable fashion and ethical lifestyle products. Our Black woman owned business is based in Exeter, UK where we believe in doing better, providing sustainable and affordable clothing options. Through activism and spreading awareness, we are working towards a kinder world. Shop our transparent pricing collection here, our Organic Cotton Bestsellers here and read more about us here.
Wondering how to make your wardrobe more sustainable? Look no further! We at Sancho's have put together our 5 favourite ways to style a capsule wardrobe. Made of neutral colours and timeless pieces that will never go out of fashion, a capsule wardrobe is the best way to make your wardrobe better for the environment without compromising on style. Keep reading to see how we've styled some of our stunning essentials, using Kalkidan's outfits.
Made from a luxurious Organic Cotton, our She Spins Dress in Heather Grey from Stanley & Stella is the ultimate base to any outfit. Pair it with your favourite white trainers and our Blimey Bumbag for an effortless Summer day look. For a grungier look, why not layer it with our Girlfriend Bike Shorts and your favourite chunky boots. It is the perfect dress to take from day to night (and it comes in both Pink and Black too).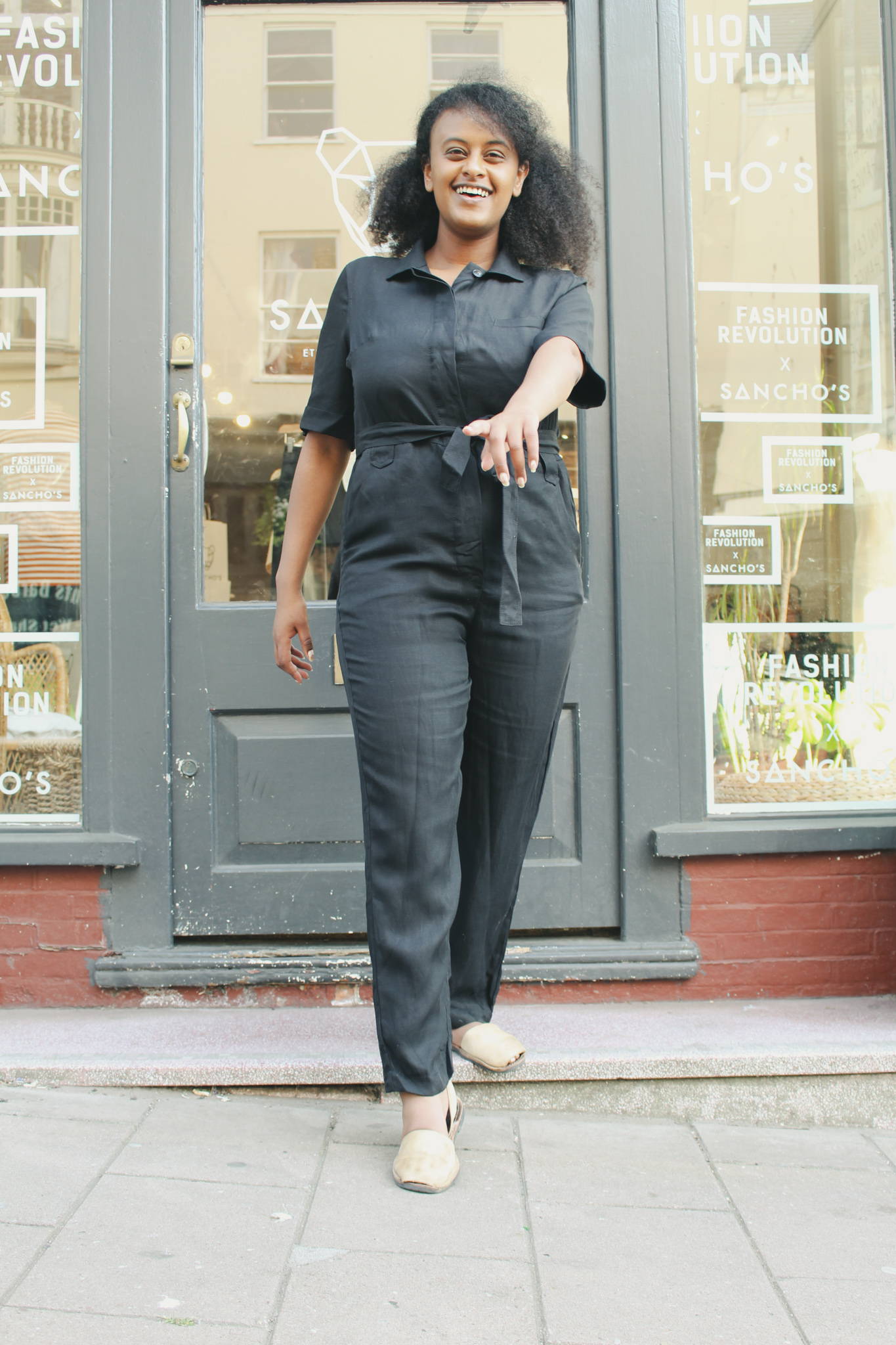 With a flattering tie waist and tailored shape, the Trapeze Jumpsuit in Coal is the perfect work outfit. Pair it with our Evel Jacket and your favourite white trainers to look incredibly chic and smart. If you're heading from work to an evening out, roll the bottoms of this jumpsuit up once or twice and throw on your favourite pair of heels. It's an all in one so you can look incredible without any hassle.
Layer, layer, layer! Our beautiful Tya Jumpsuit looks incredible with one of our Creator tees layered underneath. Adding depth and colour, layering makes any outfit super versatile. Pair your jumpsuit with your favourite wedges or sandals and our statement Kiki Earrings for a gorgeous (and comfortable) garden party look.
Our Nicole Bodysuit goes with everything. We love keeping it casual with our Maya Tapered Jeans and our Men's Cuadros Check Tom shirt on top. Made from 95% GOTS certified Organic Cotton, the Nicole Bodysuit is so soft you'll never want to take it off. Accessorise this outfit to dress it up for dinner out. Our "I am the lion" Necklace is the perfect statement piece for it. Here Kalkidan wears it in white, but it also comes in Back and Navy.
We love unisex pieces. These Marcelino Hemp trousers are actually in our Men's section, but we love how they fit on Kalkidan. Made from the super sustainable Hemp (which you can read about in our Introducing Thinking MU Blog), these are incredibly breathable and great for summer. French tuck our 'She dances' in white Top for a sustainable twist on 'Jeans and Nice Top'. To add a splash of colour, pair this look with our Alva Earrings in Lilac or our Burnt Orange Phoebe hair clip. This is a really easy way to look smart for work or daytime catch ups, without having to put in any effort.
We hope we've been able to give you some outfit inspo. A capsule wardrobe has endless possibilities for styling so play around with your essentials and see what styles you can create.
Keep an eye out on our Instagram stories @wowsancho for 'Try On Tuesdays' for even more gorgeously chic styling from Kalkidan.
Written by Alice Smith